Iola Christensen
Christensen Clock Repair
11680 East County Line Road
Fife Lake MI 49633
Phone: 231-879-4363

info@christensenclockrepair.com


Visit Us on Facebook!

About Us...
---
I dedicate this page to my father, Perry L. Christensen.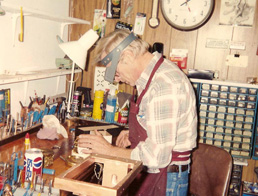 A master horologist himself, he inspired me to pursue a career in horology. My father always loved clocks as a kid. He even assisted a clock maker in Minnesota where he lived. During 1980s, while living in Apopka, Florida, his health did not allow him to do any job involving intensive labor. So, he started looking for an alternative profession. He took classes at The School of Clock Repair and Restoration and received his diploma from there on Dec. 8, 1988. Then on, he embarked on his career as a clock maker which was more than a job for him. It was his passion to fix clocks and to see the smiles on his customers' faces when he restored their clock in perfect working condition to them.

He ran his own business Christensen Clock Repair in Lady Lake, Florida until he had to give it up for health reasons. He then went to work for Helen Cipollone-Garden, owner of The Clock Shop, which was in Leesburg, Florida, and is now located in Eustis, Florida. It was in 1999 when the firm I worked for went out of business. So, I decided to work on clocks. I went to Florida and became an apprentice under my father and Helen Cipollone-Garden at The Clock Shop. Working side by side with my father, I had a great time and learned all the trade secrets from him. I took courses from Howard Miller in Holland, Michigan and established a service center for grandfather clocks.

I have been the owner of Christensen Clock Repair in Fife Lake, Michigan since 2002. I have worked hard for a reputable business, one that my father would be proud of. I think of him every time I pick up a clock. I do things from changing quartz movements on battery operated clocks, oiling and adjusting manual key wind clocks, to breaking down the polish of pivots and replacing bushings on the antique clocks. I love to work on a clock that has been in the family for years and restore its tick-tock!
Serving Alpena, Cadillac, Charlevoix, Cheboygan, Frankfort, Gaylord, Grayling, Houghton Lake, Kalkaska, Ludington, Manistee, Mio, Petoskey, Roscommom & Traverse City for More than 17 Great Years!